Food, Cut & Atm Review
Pro-Cutz
So, went for a movie yesterday. Some movie which i can watch for free but just, time don't permits. So i paid for it. &^%&^$$((*$&^$#
Anyway, it's not the movie, is, about what you do before movie.
I went, to trim my hair. You know those 10 mins speedy cut where you suppose to walk out and look regretted?
Yeah, RM12, 10 mins.
The broucher reads:
> Professional Cut
> Hygenic & Clean
> Fast
> Value for Money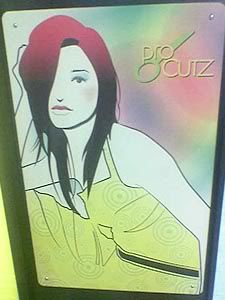 So after looking at the broucher and start peeping in the mini-shop for about 3 mins, the 'Professional Cutter' came walking from nearby food-court and ask if we (me & me fren) need a cut. So yeah i went and give her RM12, and she slot the money in the machine, a ticket came out. And i'm asked to sit at 1 of the chair la.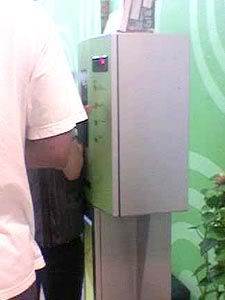 Then she start asking me, how i wan to cut. Erm. So i say, wan to cut to
collar
length, and the others just trim will do.
"
Corner
ah" okok. U wan "
Expat
" or normal cut? Then i think to myself, what the heck is expat? Must be
expert
la, since got expert & normal. I've already paid, does it matter? I said to her, normal-ok-liao. I worried end up too stylish for me. Then somehow, she started to talk to me in mandarin. I think she gave up with the language she is trying to master.
When she's done cutting, she on the vacumm hose and plug in a 'comb-brush- like which she took from inside the 'oven' look thingy. Then she start combing the hair and it also sucked in the remaining cutted-hair that left. Weird.
In the middle of sucking & combing the hair, a malay chap ask how much for a hair cut. "12
dorrar
, put
10 dorrar
and 2
1 dorrar
in the
masin
."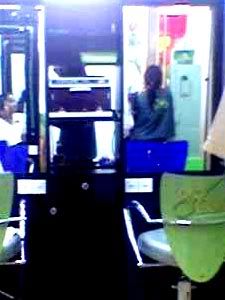 And that 'oven' like thing, it suppose to be some kind of bacteria killing thing maybe. Inside there's alot of new comb, she took one from it, insert into plastic and give it to me. I wonder if it's really hygenic, because in the plastic still got hair wan woh.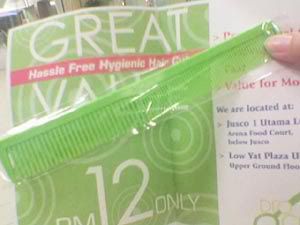 But, overall, i think the RM12 is worth paid for hair trimming cos i will never go to indian barber, and usual salon will cost more money & time than that, not to mention those stylist will keep asking you to buy their products. And no free comb-lor.
Food
So before i went to 'fast stylist' i went makan la. Makan at
Glitter's Cafe, 1 Utama. Good Food. Not expensive compare to other restaurants with kinda same menu. Subsidary of Golden Screen Cinemas.
Ordered: Salmon Laksa & Kung-Po King (Kung po style pasta), the Herb Roast Chicken was good too!!
With 20% discount (got that from COMag) my total bill up to RM19, cheap neh.
(sorry no pix cos the food really good neh, i totally forgot about pix)
Too bad but i think this cafe need alot more of awareness. There's no patron eventhough the food is real good. I think most people don't know the existance lor... so folks, go try it okay?
ATM
So, before i went to food, i need money. And i think it's nice & surprised that the ATM asked such a thing over the screen. Check those pix out. Those are
public bank
you see. It's not Maybank-my-ass where you need to pay RM0.50 after the first 4 ATM transaction of the month. Gila. this ever charging bank can suck my cock (if i had 1).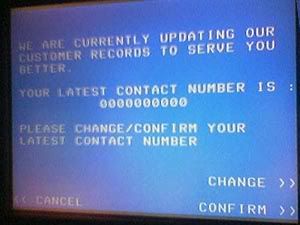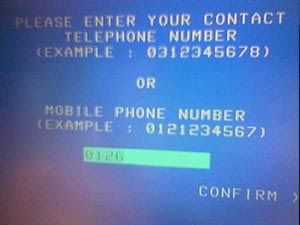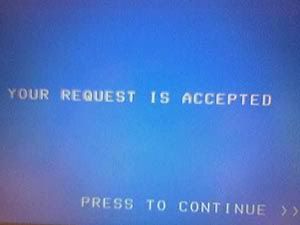 anyway, 1 nasty idea came up when i saw those screens. What if, other than entering your 6 digit pin number, make it compulsury to enter your phone number. Hehe. I mean, i think, you won't forget your phone number, right?
That time, My-ass-bank can kiss my ass cos it's so mafan to withdraw money, so no one will do more than 4 times a month.