zeta bar
have you heard of it?
it's located at Hilton KL Sentral and it's full of ladies (and i meant those above 30 yrs old), men (in their 30s), ang mo scouting for 'food'.. and yes it's not a place for youngsters like us. at least i know i won't pay RM50 for the entrance, and having a rule that i can't wear a baseball cap.
watever it is, been there, and nothing to shout about. (maybe i'm old and out of touch that's why)
so we (sharon & friends) went all the way back to poppy garden. it was fun there, at least i got nice sofa to rest my ass on.
that's the fun of going out with sharon.. hiak hiak.. i got to rest my ass.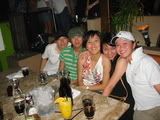 hehe i have no idea why the cameraman likes to left a space on the side...
right to left: Sharon, Kylie, Denise, Pacey & LMF (that look like a s*hai, maybe cos i'm already drunk) in Poppy Garden
~~~
Labels: Drinks