seremban updates
no siew pau, cos i paid a flat rate of RM2.10 to get into the terminal 1 building hence i did not want to come out linger around in this macha-land.
anyway, this would not be my ideal town to live in, cos i can't bear the smell, nor live without starbucks. being there for like 5 hours is enough.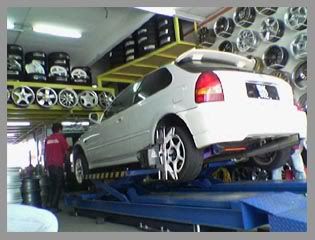 also went to do up my alignment & balancing yesterday noon at LS (sunway)
hmm apperantely the boss thought i just changed a new set of tires, although i've been using them for like a year and the half. my thread is fabulous, and they accept my trade in of 4 tires (AVS ES100) for RM350, and getting the AD07 for RM270 per tire.
i still wonder why my thread left so much since i travel KL-PJ everyday.
my final option is i will still go to klang for tires.. heheh
next topic.
are PLU really coming out from the closet?
recently, i browse a chinese mobile phone magazine (called ERing), in one section, there's something call e-pal, where u suppose to send in ur sms asking for friends, and your message will be display in the magazine like classified. Over 200 classifieds, i've counted there's about at least 25 are looking for PLUs around. maybe... there shld be a better community for the PLUs here in M'sia.
so anyone looking for PLUs could get this magazine and try their sms services.