1.14sec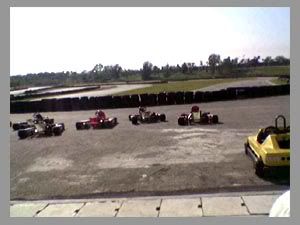 that's my fastest time for today.
best timing being made in by others are around 1.12. I'm 2 seconds behind each lap. That is a huge difference if we are talking about enduros here.
Well, i'm actually quite satisfied. Really. Completely off hook for 2 years and now i'm back again. With kinda good result to celebrate. I'm sure with more practice, i could do better timing.
anyway, we manage to be the last team to qualify in the finals. And, me having the fastest time in the group, i went for the final 6 lap - non enduro - placing. And my results are 8th place. Out of 10. The only woman on track.
There are at least four drivers in the finals are professional karters.
I guess i did good. I'm quite satisfied, with pain in both of my arms, bruises all over my leg for getting out & going in the kart in record speed. I wonder how do i continue my magazine deadline tomorrow.
Roger and out.
P/S: I shouldn't be bitching, but there's few girls that come with professional karters suit, giving extra time for practicing racing lines and stuff.. but.. LOL
Labels: Cars