recaro & mydin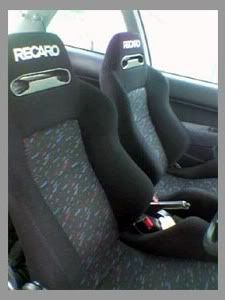 Today jackson came over to help installing the recaro. oh man thank god i didn't try myself.
it's so tight that i couldn't even unscrew a bolt.
it was done pretty fast (about an hour) and now the old seat is in my room.
dunno what to do with it now.
the new recaro seem to be lower then the original seat. i got sunk in. maybe i should get it weld higher next time. i have a little bit difficulty to see but lucky that i'm familar with my own car, so it doesn't matter.
one good thing is mum does like the new seat cos she said it support her spine well. and suprisingly her bottom can fit in. :P
so mum wanted to buy curtain for cny. we went over to mydin (used to be metrojaya) in kl. i got terrified!
There's so much of indons & bangla in the kl city. It's really really not recommended, if u can't keep an eye on your own belongings. But 1 thing good is the stuff over there is really really low priced. Carrefour & giant, you can never beat mydin in term of price!
Labels: Cars