Southern Visit
Filler post before i continue with the I- Survived - Bangkok - Trip.

Spent my weekend JB & 6 hours in S'pore. (6 hours including putting about 2 hours on customs & public transport)
Surprisingly something in S'pore is cheaper than JB after conversion. So.. shop wisely!!
After some endless shopping in JB, we swim over to S'pore & here's a outcome of 3 1/2 hours in Bugis alone.
1. Got myself 120 pcs of 4X6 glossy
photo paper
for $12.80
2. Got a
Kappa sweater
with my fav country embossed.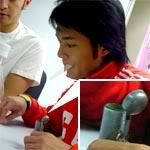 3. And ridiculous it might seen, the
K800i screen protector
. (well it's not available here yet)
4. Toys (hey dun think somewhere else)
5. A coin purse
6.
Pocket Ashtray
. Now this is something useful. I've seen Louis Koo used once and since then i've been looking for it. And i found it 4 years later.
Someone got to stop me from doing shopping till 2010!!!


And back to JB, here's some nice (but not so romantic) eating places in Permas Jaya. Masuk kampung roads (don't take your lowered car to JB, really), the restaurants are facing Singapore, above the 'river' malay type, and very nice nasi lemak (+ the attitude problem).




Nothing much to shop but i found a levi's engineered jeans. One that look like slacks. And some magical aroma stones that discard the ash smell on your ashtray. Nice!



Guide to SG, drive your car to City Sq JB and find a car park. Walk to opposite bus station. Go to the departure hall, get your passport scanned and head to the bus terminal. (as you can see 'Causeway Link' & 'SBS Transit'. Get ready your coins ( in RM) and depends on where you want to go, pay according to amt. Remember to look out for the bus number (CW1, CW2 etc) - for me i chose the nearest MRT so it's Kranji (MRT) and it's 90 cents per person.
When reaching SG customs, fill a form and walk to Mr. Kastam*. After you done the x-ray thing, now, it's time to chase the bus. If u missed it no worries, you can always wait for the next bus. Just follow the sign above those barriers to the correct bus. Tada.. you are in Singkapoh.

*somehow we met the same Mr. Kastam on our way back and he recognised us. Smiling, he said, are you the one that went to Bugis? Yeah!, and see what i bought... (showing se* toys)