2006 1.8 & 2.0 Civic
I'm not gonna do a review on both of this car, as you can find a proper review in NST coming out on 21st June, and you could check out
paultan.org
for online review.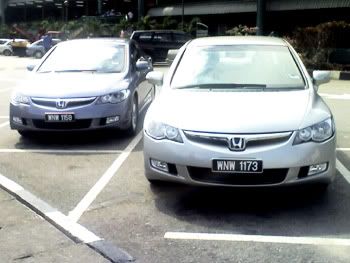 Meter display was amazing. Digital speedometer upfront, analogue rpm at lower tier. extremely large dashboard, but super small glove box. Handbrake is right beside the gear and i think that's really good, giving more compartments in the center. The middle compartment gives me the feel of Mitsubishi Airtrek. Large & Deep. 2 cup closable holder + a removable ashray that looked like water bottle. 6 Disc changer + cd player mp3 wma compatible (for the 2.0) and single disc player mp3 wma compatible (for 1.8). Both model came with a female jack where u can quickly plug your ipod/mp3 players.
leg room for driver is abit the cramp. might because of the gigantic dashboard. Adjustable steering height it's normal, but these civics give u adjustable depth as well. So if u got a short hand, pull the steering towards you, that's something thoughtful, but getting out of the car without hitting the steering is kinda impossible if you set your steering position to lowest, and the max towards driver.
We realized the car doesn't come with brake auto door lock/speed auto door lock but then later we found out the door locking mechanism is built beside the drivers door, which is even better. You could lock your car even before you crank it.
Paddle shift (2.0) is extremely responsive. but might be a problem as sometimes we accidentally touched the signal/wiper column. Built in player controller + auto cruise on the steering felt good during highway cruise but not pratical for high speed corner taking (using paddle shift) as the volume button always got adjusted accidentaly from the steering.

Interior for 2.0 is extremely nice, but 1.8 sucked big time. Beige coloured 'towel' feel seat & side panel. So soft that you could sleep on it, and possible left your saliva mark.
113K for 1.8, 124K for 2.0 (both on the road). I'd suggest you get the 2.0.
Extra 11K and u got these:
- Leather interior
- 5 speed Paddle shift
- steering control (cd player & auto cruise)
- Dohc I-Vtec (sohc i-vtec for 1.8)
- Side marker built on side mirror
- HID
Cruising 140km/h + on a highway felt like 80. and doing 90km/h+ on tight corners felt like 40.
You sped without knowing it, and this feeling only came from european car if u asked me. The stablility is always there.

Noticed that i never mentioned about vtec engagement shit? Because it's not important anymore. It's so much fun driving the car that no one ever remember the vtec feature. It's so much fun driving it, really.
Labels: Cars